Pastors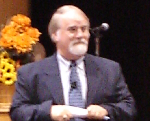 Dr.
Howard L. Ruley
, is our senior pastor. He was born in Decatur, IL. and is the son of a preacher. Pastor Ruley received his Bachelor of Arts from Morningside College (Sioux City, IA), his Master of Divinity from Winebrenner Seminary (Findlay, OH), and his Doctor of Ministry from Lake Charles Bible College in Lake Charles, LA. Dr. Ruley was ordained in the Ohio Conference of the Churches of God. He is married with two sons.
Personal Message to Visitors from Pastor Ruley:
On behalf of the Parkway family, I want to say thank you for visiting our church. We are honored to have you worship with us. We do not take it lightly that you chose to come and spend some time with us and trust you were blessed as we were because of our time together. The Parkway Church is made of God loving people from a diverse group of individuals with different cultural backgrounds. We have this in common, we love the Lord, and because of this we can and have learned to love each other. We would love you to be part of our family here at Parkway. We have many programs and special events available for men, women and children and invite you to join us and share in our fellowship. If there is anything we can do to assist you in your spiritual walk please let us know. We hope you will come join us in worship again. May God continue to bless and lead your life everyday.
In Christ Dr. Howard Ruley Senior Pastor Parkway Community Church